Welcome! And thank you for investing in your health :)
Even if you have used our services before, please read all of the information below.
At the start and end of each F45 challenge, we will offer Fit3d Body Scans on-site at F45 North Wellington. You can also come into our head office, based at 128 Featherston St, Wellington CBD.
Covid-19 Policy:
If you have had a positive test for COVID-19 within the past 7 days, please do NOT book in for any of our face-to-face services. If you have current symptoms of COVID-19 please do NOT turn up to any face-to-face consultations.
Fit3d Username and Password:
If you have scanned before, please check your Fit3d username and password BEFORE coming in. Please do NOT rely on your phone to automatically remember your password - you will need to login on our Fit3d Machine Tablet (NOT your phone). You can check this at www.fit3d.com and click login.
F45 Challenge Test Options
Option 1:
UNLIMITED Fits3d Body Scans 7 days/week over 12 months
Scan as much as you like over a 12 month period.
F45 members $247* OR an automatic online payment of $7/week over 12 months
*F45 members can scan at F45 OR at our Featherston St, Wellington CBD HQ
*7 days/week access will be provided after you have had at least 3 scans
*Friends and family of F45 members can also come and scan with you (for the same price, and conditions)
Book your 1st of the Unlimited Body Scans here
Option 2:
2 x Fit3d Body Scans (Before and After a challenge)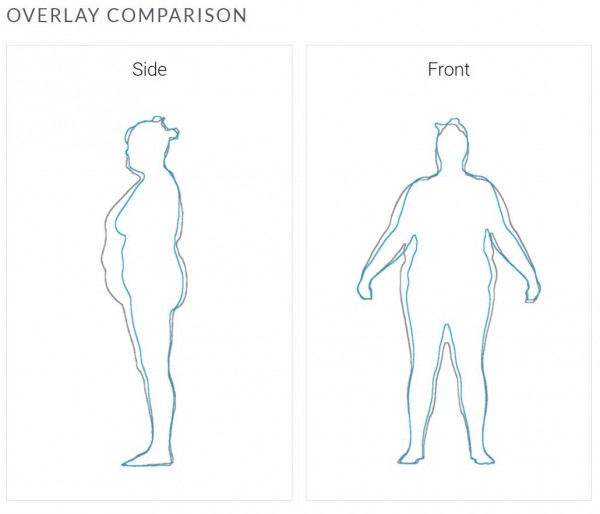 For more detail about our Fit3d Body Scanner, please check out this link here
Note 1: The booking system username and password are different to your Fit3d Body Scan account. If you have scanned before and can't remember your booking account, please create a new one - Password reset does NOT work on the booking system :)
Note 2: Due to the high number of people scanning at the start/end of a F45 challenge, our testing technicians will only briefly go through your results with you post scan. You will receive 24/7 online access to your results. If you would like to discuss your results in more depth, please email our director post-scan and he will arrange a time to call you at no additional cost.
F45 members $87 TOTAL for 2 scans
*Friends and family of F45 members can also come and scan with you (for the same price, and conditions)
Book your 1st of 2 Fit3d Body Scans here
Option 3:
Health WOF (including Before and After Fit3d Body Scans)
Our Health-WOF is the ULTIMATE baseline on which you can make improvements and screen for other health problems. You can learn more about your body INSIDE AND OUT.
This is perfect for those ages 25-55, particularly if you have not had your cholesterol, blood pressure, and diabetes tested recently.
Here is example of the report you will receive as part of your Health WOF
At the START of the challenge only, the F45 Health WOF includes a 1:1 assessment with our director, finger-prick diabetes and cholesterol blood tests (incl Total, HDL, LDL, Triglycerides, Total/HDL ratio), Blood Pressure, Heart Age, 18-page Colour-coded individual report, results discussion with our director, referral to an appropriate health practitioner if required, AND Fit3d Body Scan. At the END of the challenge, you will receive a 2nd Fit3d Body Scan for FREE.
You can view a video of our WOF testing in action here
F45 members $147 TOTAL including 2 x Fit3d body scans
Note: The Health WOF will only be offered and performed by our director at our Featherston St, Wellington CBD location.
Book your Health WOF here
Additional Notes:
Full payment will be expected on the day of your first test unless you have paid via F45 in advance.
We never offer refunds.
Your second Fit3d Body Scan will expire 3 days after the end of your challenge. If for any reason (Pandemic, Earthquake etc) we need to re-schedule your 2nd/After-challenge Fit3d Body Scan, your 2nd test will expire 3 days after the new scheduled re-test date.
You will automatically be sent pre-test instructions when you book however if you would like to view these before booking, you can read these here
You are recommended to read our T's and C's and Privacy Policy before booking a health test/body scan. Note - A representative from your F45 will be given access to your results so they can find a challenge winner.
If you are taking your own photos for the challenge, to be eligible for a prize, you must have a front, back, and side photo taken, and you must be in your underwear or bikini. You must have these taken against a WHITE wall with nothing in the background e.g. no clothes, windows etc. Please discuss this with F45 if you require more detail.
Book your 1st of 2 Fit3d Body Scans or your Health WOF here