Fit3d Training and Business Growth Kit
Below is a link to a pdf Fit3d Training Resource. This pdf has been developed as a resource for you and your staff to refer to. The content has slowly been added to over the past 5 years, based on my experience in the Body Scanning Industry. There is some information in this pdf that you will not find in the formal Fit3d Training Certification Course. Enjoy! Peter
Fit3d-Training-and-Business-Growth-Kit-2021.pdf
Staff Self-Help Sheet for Machine Breakdown
Here is a 2 page Self-Help Sheet. I would strongly recommend you print this out, laminate it, and leave it next to your Fit3d body scanner for all staff to use in case there are any issues with your Fit3d Body Scanner Self-Help Sheet
Signs we recommend ALL Fit3d owners create
To ensure clients do not break your machine handles, please create a similar sign to the one below, and point this sign out to clients EVERY time they scan. Clients should also be practicing the proper scan position in their clothes/socks with you in the room BEFORE you leave the room.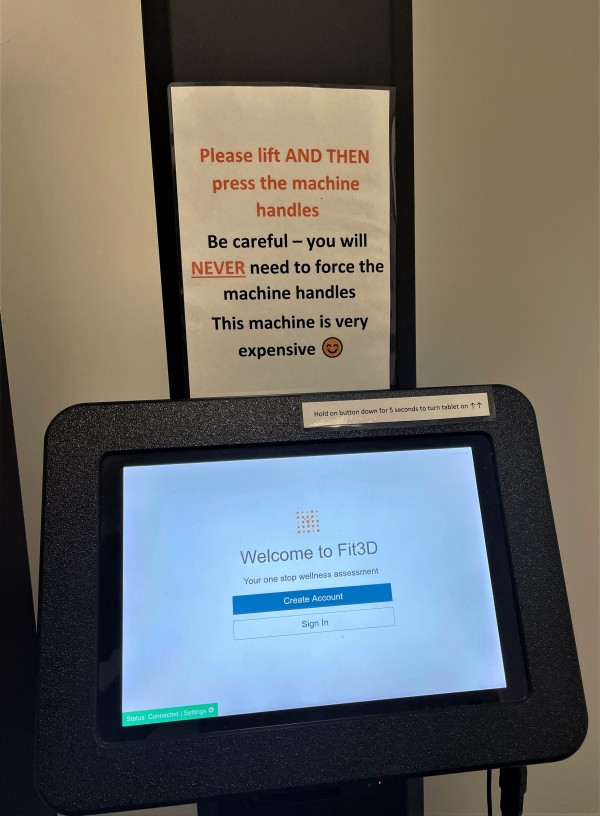 The photo below includes 2 signs. These, or similar, are essential if you are going to allow clients to self-scan in their own time e.g. when you are not in the facility. You want to full-proof the scan room for success!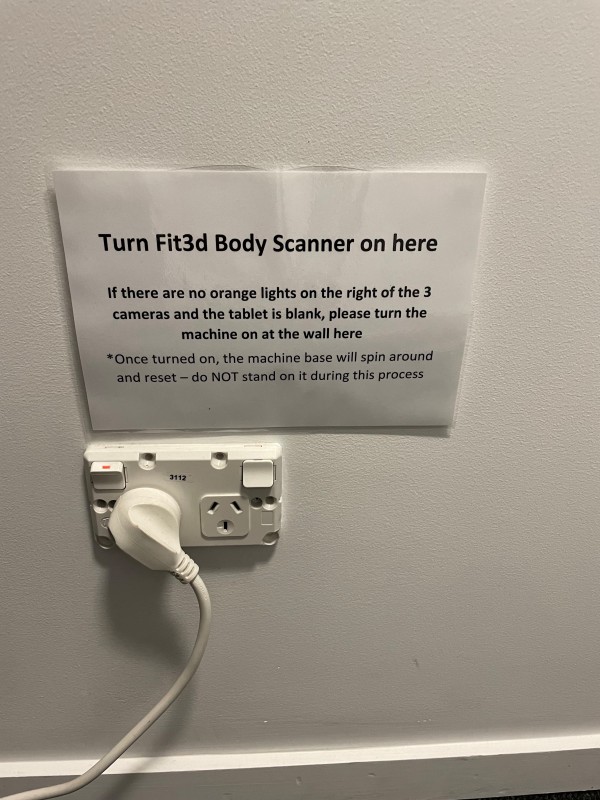 In addition to the signs above, here is an example of an 'unlimited scan' document that could be altered to suit your facility. You could email this document (and leave one in the scan room) to all clients who want to self-scan when you are not in the facility. It is strongly recommended that you are with clients for at least their first 3 scans, or until the client can safely display the proper scanning procedure.
Additional Fit3d Resources For Machine Owners
Click on the Resource Title for a link to the information :)
How to Set Up your Fit3d Body Scanner for the 1st time
How to Interpret your Fit3d Body Scan Report - Detailed Version
How to Interpret your Fit3d Body Scan Report - Quick Version
The Perfect Scan Technique - Gain Reliable Results Every Time
Common Mistakes Made by New Fit3d Machine Owners
How to Interpret your Fit3d Posture Report, including tips
The Fit3d Additional Measurements Section, including High Level Analysis
Fit3d Body Scan % and the Recommended way to make Holistic Decisions using Fit3d
Creating your brand and marketing using Fit3d
How to use Fit3d Reports to generate leads and Grow Your Business
Fit3d Training & Business Growth Kit - pdf bible of what I've learnt from performing 10,000 Fit3d Body Scans